6397 Holloway Drive
Liberty Township, Ohio 45044
RECTOR
Fr. Bernard G. Hall
HOLY MASS
Sundays:  4:00 PM
Weekdays:  8:00 AM
Holydays:  10:00 AM
CONFESSIONS
Before Sunday Mass
3:30 - 3:50 PM
and by appointment
1000 Scioto Street
Urbana, Ohio 45038
CHAPLAIN
Fr. Bernard G. Hall
HOLY MASS
Sundays:  10:00 AM
Holydays:  5:00 PM
CONFESSIONS
Before Sunday Mass
9:15 - 9:50 AM
Contact Us
How to get in touch
Have a question?  Comments or suggestions?  We'd be happy to help.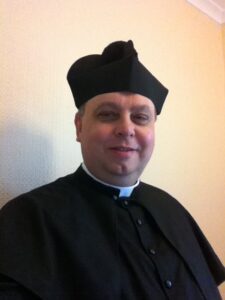 The Dean of Chapter
Fr. Bernard G. Hall
Born in 1955 in the West Riding of Yorkshire, England, Fr. Hall was educated at Oakbank School and the University of St. Andrews, Scotland, where he received a Masters Degree in the Liberal Arts in 1977.  After entering the Séminaire Internationale Saint Pie X at Ecône, Switzerland in 1978, he he was ordained to the subdiaconate in 1982.  The following year he joined the faculty of St. Pius V School in Wantagh, New York, where he taught high school Religion, Literature, English, Church History and French from 1983 to 1988.  From 1988-1993 he worked for the British Government in Manhattan, first at the U.K. Mission to the United Nations, and then at the Hong Kong Economic & Trade Office.  After 1988, Fr. Hall worked as an independent corporate and leisure travel agent for eight years, before beginning his monumental work on transcribing the Latin and English editions of the Roman Breviary into digital format and making it easily available for the first time to the Catholic faithful.  Relocating to Cincinnati in 2004, he taught Religion, Latin, German, English, History and Civics at St. Gertrude the Great School, as well as directing the Gregorian Schola and playing the organ at the daily High Mass.
Ordination to the Priesthood
In 2009 Fr. Hall, still a subdeacon, left St. Gertrude's to join the new parish of St. Albert the Great in Cincinnati.  Here he resumed his studies for the priesthood, and was ordained on May 4, 2011 by Bishop Paul S. Petko, who traced his episcopal lineage back through Dominican Bishops Robert McKenna and Guérard des Lauriers, Confessor to His Holiness Pope Pius XII.  After his ordination, Fr. Hall spent his first years of priesthood working in England, France and Italy.  Returning to the United States at the end of 2012, and after establishing the Chapel of the Infant of Prague in Liberty Township, Ohio, he took up a temporary assignment as Assistant Pastor to Our Lady of the Rosary Chapel in Monroe, Connecticut.
2014 to the present day
Fr. Hall returned to Liberty Township in 2014 to continue his apostolate at Infant of Prague Chapel.  Here, he established the Guild of St. Peter ad Vincula, dedicated to the preservation and restoration of the Catholic Church by means of her traditional liturgical practices.  In addition to his work at Infant of Prague Chapel, Fr. Hall offers weekly Mass at the chapel of St. Margaret Mary in Urbana, Ohio, every Sunday morning at 10:00.
Send a Message to Fr. Hall