INFANT OF PRAGUE CHAPEL
6397 Holloway Drive
Liberty Township, Ohio 45044
RECTOR
Fr. Bernard G. Hall
(513) 435-1726
bhall@gspav.org
HOLY MASS
Sundays:  4:00 PM
Weekdays:  8:00 AM
Holydays:  10:00 AM
CONFESSIONS
Before Sunday Mass
3:30 – 3:50 PM
and by appointment
BAPTISMS, MARRIAGES
By arrangement with Fr. Hall
SICK CALLS, LAST RITES
Be sure to let Fr. Hall know if a church member is sick, hospitalized or in danger of death.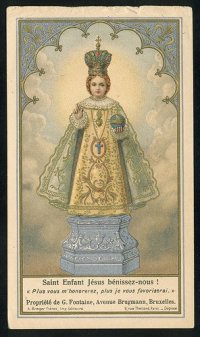 Infant of Prague Chapel in Liberty Township, Ohio is the headquarters of the Guild of St. Peter ad Vincula.  Mass is offered here daily by the Rector, Fr. Bernard G. Hall.  Please note that the Mass schedule displayed below is subject to last-minute changes, so be sure to call the Rector in advance to confirm the times.
At Infant of Prague Chapel you will find a friendly and authentically traditional place of worship, eager to supply the spiritual and sacramental needs of the faithful who attend.  In return, these faithful are kindly asked to contribute for the financial upkeep and maintenance of the property, as well as for the support of the Rector.
September 24 - October 1, 2023
DATE

TIME

OBSERVANCE

BENEFACTOR

MASS INTENTION

17th Sunday after Pentecost

St. Isaac Jogues & Companions, Mm

Mark Vopelak and his son Nicholas

DEDICATION OF BASILICA OF ST. MICHAEL ARCHANGEL

18th Sunday after Pentecost

Mark Vopelak and his son Nicholas
While we're all aware that October is the month of the Most Holy Rosary, we tend to forget about the second dedication of the month to the Holy Angels.  We get this devotion off to an early start this coming Friday, which is the feast of Michaelmas, celebrating not only St. Michael, but all the Angels in heaven.  They are our helpers and act as messengers between us and God, carrying our prayers before his presence and bringing us messages, signs and other help from the Most High.  Now is the time to renew our devotion to these Messengers of God, honoring them in particular during the coming month of October.
| DAY | DATE | MASS | TIME |
| --- | --- | --- | --- |
| Sunday | January 1 | CIRCUMCISION | 4:00 PM |
| Thursday | May 18 | ASCENSION | 10:00 AM |
| Tuesday | August 15 | ASSUMPTION | 10:00 AM |
| Wednesday | November 1 | ALL SAINTS | 10:00 AM |
| Friday | December 8 | IMMACULATE CONCEPTION | 10:00 AM |
| Monday | December 25 | CHRISTMAS | 12:00 AM |